As I planned out my sewing for Costume College this year I had to rethink all my plans. I had planned a huge project that involved a fully beaded 1912 gown. Between school and now my internship, it wasn't going to happen. Maybe next year.
I settled on this floofy number: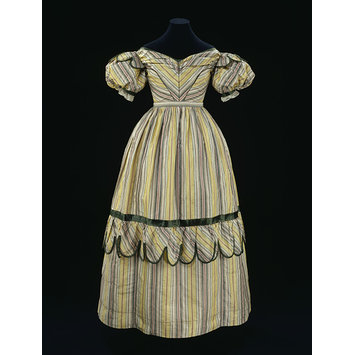 1828 Dress, Victoria and Albert Museum
I've never been interested in the 1820s to 30s look. But something about this dress took me in. The more I read about it and discovered it was likely made from 18th century fabric, the more I fell in love. Plus, it's a fairly simple design. With the right fabric it could be a fancy frock. And those bias scallops! Yum!
Finding fabric was the tricky part. I wanted an 18th century-esque stripe that was ideally green and purple. Alas, no such fabric could be procured. I was lucky enough to hit up the LA garment district on reading week and found some green and gold stripe that suits perfectly. You'll have to wait and see the final dress ;)
I got my corded petticoat done just in time to leave for CW. Literally. Just in time. Like 3 hours before I left my house. Ugh. I already hate it and wish I could remake it, but whatever. I hope it does the job.
I brought all my sewing supplies with me and am slowing moving through the process. At first I was concerned about hand sewing the entire thing because it was going to take forever. And I remembered, I'm here to hand sew everything... so yeah, that works out well. *face palm*
I've cut all the pieces and am carefully hoarding them in my room. The only part I'm not doing by hand is the making the piping. I visited a friend with a zipper foot this week so it's all ready to go! Now I just need to get sewing. The dress itself should be fairly straightforward. As you see all the front panels are at an angle and match stripes. By hand is definitely the way to go!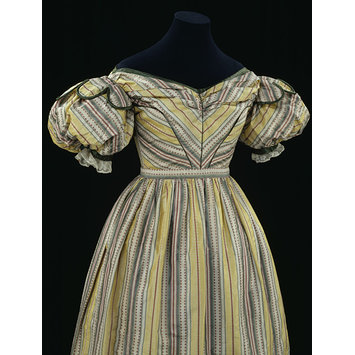 All the bias!
The last piece I need to figure out it is the sleeve supports. I'm using silk taffeta that will need a little help staying afloat. I'll be following
this tutorial
from Fresh Frippery as a simple way to add a little floof. I love the idea of using tulle so they stay light and fluffy.
I also need to make a hair piece. I'm terrible when it comes to doing my own hair. I've got a good grasp on regency, so I'll use that knowledge to make this work. I'm planning to do something like this:
1828 Abendfrisur
I bought all the necessary pieces with me and will attempt to make something passable while I'm here. I may invest in a foam head as that will be easier to hold things in place. Fingers crossed!
Hopefully it'll be done before I go! I'm looking forward to hand sewing a gown. I'm feeling more confident in my hand sewing skills so this is a perfect opportunity to show them off!
And thankfully it'll fit perfectly in the July challenge for the Historical Sew Monthly. I'll complete at least one challenge this year. ;)
Cheers,